You are here
Environmental Records
We live in it, swim in it, breathe it and drink it, so New York's environment is critically important to all of us. Concern for the conservation of natural resources and the preservation of landscapes and wildlife habitats has grown dramatically. Government agencies administer environmental laws and regulations, and businesses, communities, and individuals seek to balance environmental concerns and other needs and concerns. Organizations and groups that face this challenge have widely varying viewpoints and interests.
Environmental Records in the State Archives
The New York State Archives holds records from state agencies such as the Adirondack Park Agency, Department of Environmental Conservation, and Department of Parks, Recreation and Historic Preservation.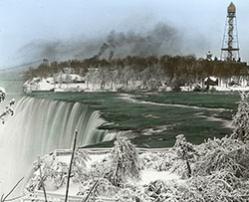 Our Preliminary Guide To Environmental Documentary Sources in New York State contains a listing of records relating to environmental records in the State Archives Section. You can also search our finding aids for additional information on environmental records.
Research Tips on New York's Environment and Landscape
Environmental Records available throughout the State
The State Archives has worked with people and organizations active in environmental issues to identify the issues, people, organizations, and events in environmental affairs that are most critical to document in New York State. Through the New York Environmental Affairs Documentation Project we have produced:
The New York State Archives has also partnered with seven other historical records repositories to create a Virtual Resource Collection on New York State's Environmental History.