You are here
Prisons & Inmates

The State Archives holds numerous inmate registers, cards, and case files from several State correctional facilities. Most of the record series are incomplete, and only a sample of post-1956 case files is being preserved. Basic personal information (including information on adult convictions and incarcerations) is available without restriction. However, probation, parole, and medical data is restricted by Department of Correctional Services regulations. Access to prison and reformatory records is difficult because there are a limited number indexes to the records. Archives staff will search for a specific inmate record only if sufficient information is provided (such as place and dates of incarceration and/or institutional identification number) to locate the record.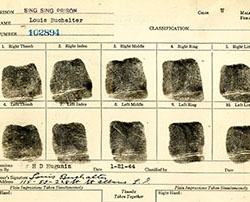 Name Index 
The Name Index includes individual names appearing in the records of various state agencies whose records are held by the New York State Archives.   The following record series are represented in the name index:
Attica Correctional Facility inmate case files, 1940-2002
Auburn Correctional Facility Inmate Case Files, 1993-1996
Bedford Hills Correctional Facility Inmate Case Files, 1915-2002
Clinton Correctional Facility inmate case files, 1976-1996
Eastern Correctional Facility Inmate Case Files, 1920-2002
Green Haven Correctional Facility Inmate Case Files, 1930-2002
New York State Reformatory Register of New Inmates of Italian Citizenry, 1915-1930
Parole Board female inmate case files, 1920-1930
Sing Sing Prison, 1939-1963
Sing Sing Prison List of Foreign Born Prisoners, 1919-1944
Finding Aids
Finding aids provide detailed information about individual record series held by the State Archives.  You can search all finding aids for information specific to prisons and prisoners.   The institutions and date spans of correctional facility case registers or cards available for use at the State Archives are as follows::
Prisons
State Prison of the City of New York ("Newgate") (1797-1810)
Auburn Prison (1815-1970)
Clinton Prison (at Dannemora) (1846-1964)
Sing Sing Prison (at Ossining) (1865-1971)
State Prison for Women at Auburn (1893-1933)
Westfield State Farm [for Women] (1933-52)
Fishkill Correctional Facility (1949-77)
Reformatories
New York House of Refuge (at New York City) (1824-1935) (case records on microfilm)
Western House of Refuge (at Rochester), later State Agricultural & Industrial School (at Industry) (1849-1960) (case records on microfilm)
New York State Reformatory (at Elmira), later Elmira Reformatory (1877-1957)
Western House of Refuge for Women (at Albion), later Albion State Training School (1894- 1948)
Eastern New York Reformatory (at Naponoch) (1900-1909)
Research Tips 
Special Projects
The Attica Uprising and Aftermath:  Selected Documents from the Office of the Attorney General 
This collection represents a collaborative effort between the New York State Office of the Attorney General and New York State Archives to provide access to materials related to one of the most infamous prison riots in American history, the 1971 uprising at Attica Correctional Facility in Western New York.
Publications