You are here
Probate & Wills
Probate records include wills, estate inventories, letters of administration, and other documents relating to the administration and settlement of deceased persons' estates. These records contain information on the property of decedents, the identity and relationships of heirs, and legal actions taken to prove wills and settle estates.
Finding Aids
Finding aids provide detailed information about individual record series held by the State Archives. Follow this link to read descriptions of record series that contain information relating to probate in New York Colony and State.
Probate Records Pathfinder
This pathfinder will direct you to the best sources for probate records created in New York from the British colonial period to the present.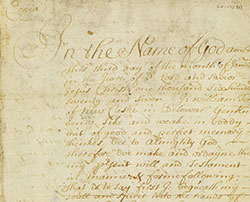 Probate Records Leaflet
This leaflet identifies and discusses the various courts and offices that have filed, recorded, or maintained probate records in New York since 1665. It also describes probate records held by the State Archives and lists all known indexes and abstracts of those records.
Indexes
These indexes include individual names appearing in selected records series held by the New York State Archives.  The following indexes contain information specific to probate records.