You are here
From the State Archivist, Tom J. Ruller
It's springtime here in upstate New York.  This is the time of year that a lot happens here at the State Archives. 
Our Records Center staff are busy identifying records that have met their legal retention period and are preparing those records for secure, confidential destruction. 
Our Local Government Records Management Improvement Fund grants program staff are busy reviewing applications submitted by local governments across the state for funding to support projects to improve the management of their records.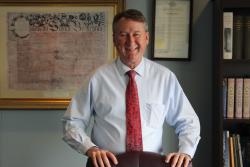 Activity in our research room has picked up as the weather improves and it is easier to travel to Albany to explore the rich resources we preserve and make available for research.  
Our spring and summer schedule of programs is taking shape with a large variety of education for records managers, archivists, researchers and anyone who is interested in the history of our state.  We hope that you will take advantage of some of those programs, all of which are also recorded and available for viewing at your convenience.
As we enter our 51st year of existence, the State Archives continues to work hard to ensure the management and preservation of the essential records of State and local government and of the thousands of non-government repositories statewide.  We take pride in our wide range of programs, the usefulness of the resources we delivery,  the availability of the over 26 miles of historical records that we preserve and our role as the stewards of New York's documentary heritage.  
As always, please don't hesitate to contact us, we look forward to hearing from you. Contact the State Archives: Email archinfo@nysed.gov or call 518-474-6926.