You are here
From the State Archivist, Tom J. Ruller
Welcome to the State Archives! As you look outside and see the snow piling up and the temperatures heading down, and you spend more time indoors, we hope you'll spend some time wandering through the many resources we can deliver to you in the comfort of your own home. Our website offers a wide variety of resources and services for researchers, records managers and anyone who is responsible for administering historical records in their community.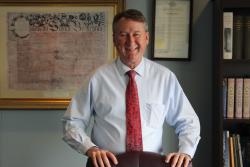 This past two years have helped us recognize the value of bringing the State Archives to your home. We have made great use of digital technology to scan records for remote delivery, expand our catalog of online webinars and deliver information via recorded video through our YouTube Channel. I encourage you to wander through our video collection to see items from our collection, learn how to preserve your family's treasures or understand the best way to visit us here at our facility in Albany.
As always, please don't hesitate to contact us, we look forward to hearing from you. Contact the State Archives: Email archinfo@nysed.gov or call 518-474-6926.