You are here
Introduction for Records Managers
Records management is vital to the efficient operation of your organization. Good records management practices help ensure that records are kept for as long as necessary to support business needs and reduce the time and effort required for staff to find the documents they need to perform their duties.   
In an effective records management program, everyone in an organization is a records manager. The role can range from a file clerk to the chief executive of the organization.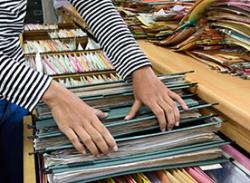 Records management officers (RMOs) oversee and administer their state agency's or local government's records management program.  They act as the program's primary advocate and provide assistance and advice to the staff who create, receive, maintain, and use the entity's records.  RMOs, with the assistance of the State Archives, identify and assess their organization's records, ensure that staff can easily access documents when needed, and legally dispose of them when they don't.
By law each state agency and local government must have a designated RMO and inform the State Archives who that person is. If you are a newly designated RMO, please inform the State Archives of your appointment as soon as possible. Send us an email at
recmgmt@nysed.gov
.
Records managers and RMOs are encouraged to attend State Archives' 
workshops and webinars
 and read State Archives' 
publications
. These cover a diverse range of records management topics.