You are here
Our Services
The New York State Archives is ready to help you manage your records effectively throughout their
lifecycle
 from creation to destruction or preservation.  If you have any questions, want to schedule a site visit, or need to know where to begin, please contact us.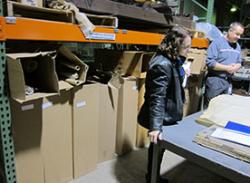 The State Archives bills state agencies for records management services and for storage of records at the State Records Center. This is authorized by Section 57.05(11) of the Arts and Cultural Affairs Law and 8 NYCRR Part 188. Annually, the Archives sends out invoices to state agencies.
Workshops, Training and Publications 
If you need help getting started or are looking for practical strategies for managing your program, we offer the following: 
Records Retention Scheduling and Appraisal 
Grants 
Inactive Records Storage 
The State Records Center is an inactive records storage site that offers secure low-cost storage, retrieval, and destruction services to New York State agencies.
State Wastepaper Recycling Contract
The State Archives, through the State Records Center, administers the State Wastepaper contract. This contract offers free and confidential paper records destruction for state agencies and local governments. Through this contract state agencies and local governments can use the services of a designated paper recycler for secure and environmentally acceptable disposal and recycling of bulk quantities of obsolete paper records.
For more information on using the contract contact the State Records Center, records@nysed.gov
Archival Records Transfer 
Local governments are responsible for preserving their permanent records; state agencies must transfer the legal ownership and custody of their archival records to the State Archives when they are no longer needed onsite. 
 To learn more about transferring state agency records which have been scheduled as archival to the State Archives, please do the following: 
Managing Records During the COVID-19 Pandemic
Throughout the COVID-19 pandemic state agencies and local governments continued to provide essential services during the COVID-19 pandemic, often in new and innovative ways. To assist state agencies and local governments in meeting their records management responsibilities we developed a set of guidelines for managing records during the pandemic and for documenting the government COVID-19 response.