You are here
Researcher Services
We provide access to over 150,000 cubic feet of archival records of New York State government (executive, legislative, and judicial branches), and to over 10,000 rolls of microfilmed archival records of local governments. We also assist researchers in locating archival records relating to New York in other government agencies and in historical records repositories. 
You can learn more about these services and take an online tour of the Archives by watching the video on our Visit the Archives page.
How we can help you
We provide direct assistance to remote users:
email: archref@nysed.gov
phone: (518) 474-8955
Staff onsite can retrieve records and report our findings to you.
We enable users to purchase copies of many our records.
Use our Name Index to find people and then send an email to request further information or copies.
Most records in the New York State Archives are available to the public without restrictions. However, access to some of our records is restricted. Consult our access policy for more information.
We provide access to many of our microfilmed records through interlibrary loan.
How to find records
You can search for records using one of our online research tools which include finding aids, the online catalog, and digital collections.
The following video demonstrates how to use these tools effectively in your research.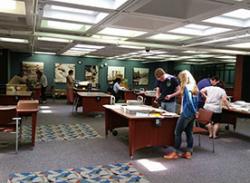 You can also check our Frequently Asked Questions for information about records that contain genealogical data or information about individuals (military service, educational and professional credentials, etc.).  
Archivists have prepared publications on a variety of research topics to assist you in your research. You can review the finding aids and guides by topic or by reviewing our list of publications.