You are here
Naturalization Records
Naturalization is the act of granting the full legal rights and privileges possessed by native-born individuals to someone born in another country. Legal jurisdiction over naturalization has changed repeatedly since the colonial period and records documenting the process are found in various locations. The State Archives holds relatively few such records and inquiries usually result in referrals of researchers to other repositories. The tools below will help you determine where records of interest to you are likely to be found.
Finding Aids
Finding aids provide detailed information about individual record series held by the State Archives. Follow this link to read descriptions of record series that contain information regarding naturalization in New York Colony and State.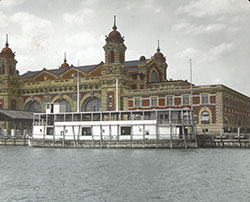 Guides
The Naturalization Pathfinder will direct you to the best sources for records of naturalizations that took place in New York from the British colonial period to the present. 
The Naturalization Leaflet discusses colonial, state, and federal statutes and records that relate to the naturalization of alien residents of New York. It also discusses records of some related government functions: reception of immigrants by customs and immigration authorities; enablement of aliens to own land; and legal change of name of individuals.