You are here
Military Records
New Yorkers have participated in military efforts since the colonial era. Military records shed light on the lives of soldiers, the struggles of the forces, as well as war's impact on the home front. They offer researchers a unique view of our past.
The State Archives holds records documenting the many individuals who served in the armed forces during conflicts prior to World War II. The records contain summary data on military service, usually taking the form of financial claims, cards, registers, or one-page abstracts. The Archives holds no military case files (service, pension, or bounty land warrant) like those created by the Federal government.
Guides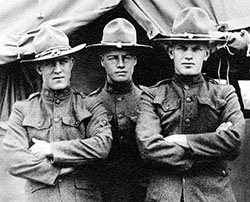 Research Tips
Name Index
The Name Index includes individual names appearing in the records of various state agencies whose records are held by the New York State Archives.   The following record series are represented in the name index:
Abstracts of muster rolls of National Guard units mustered into federal service during the Civil War , B0800
Certificates submitted by disabled Revolutionary War veterans claiming pensions and audited accounts of pensions , A0174
Entry documentation relating to pension claims, First N.Y. Regiment Volunteers, Mexican War , A1254
Index to Council of Appointment minutes , A1846
Copies of accounts audited by the Auditor General for bills presented to the State , A0870
Military patents , A0447
Outgoing correspondence replying to inquiries about records of soldiers of the Revolutionary War , A1363
Records of surveys and maps of state lands , A4016
Revolutionary War accounts and claims, A0200
You can continue your search for military records using searching our Finding Aids or the Historic Documents Inventory, the statewide section of Excelsior.