You are here
Matting and Framing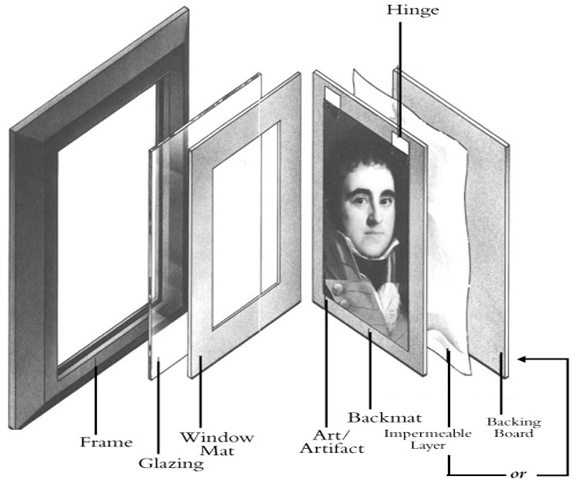 This illustration, adapted from an image by the American Institute for Conservation, demonstrates the components involved in conservation framing.
General Tips
Matting and framing done well is a craft that requires skill and artistic judgment as well as use of the right materials. These guidelines can help you decide whether you are comfortable doing this work yourself. If not, you can bring your artwork, document, or photograph to a reputable frame shop.
Framing or mounting a precious heirloom with the wrong materials can do more harm than good. Acidic mat-board, brown backing paper, and cardboard will speed the decay of prints, fabrics, and photographs.
A frame may be important in its own right. Consult an expert before replacing or repairing an existing frame or selecting an new one.
Dust frames with magnetic cloth or a soft brush. Always identify the item you are mounting or framing. Any paper-based treasure can be labeled on the back along the edge with a soft No. 2 pencil. Write gently.
Selecting Materials for Matting and Framing
Use only acid-free matting and backing boards.
Select safe materials to attach the paper to the backing board: acid-free photo corners, Japanese paper hinges applied with wheat starch paste, or gummed acid-free paper.
Never use spray mount, rubber cement, or other glue, adhesive tape or pressure-sensitive backing.
Cover the image with acrylic sheets or glass to filter out ultraviolet light. Use only glass for artworks in powdery media like chalk, charcoal, or pastels.
Do not let photographs, paper treasures, prints, paintings, or drawings touch glass that covers them. Use a window mat to separate the work from the acrylic or glass.
Fabrics can be mounted onto a support made by covering an acid-free board or stretcher with washed 100% cotton. Sew the fabric onto the cloth by hand. You can identify the heirloom with a hand-stitched label made from cotton tape.
Guidelines for Your Framer or Frame Shop
Select a frame deep enough to hold all elements.
Use ultraviolet-filtering glazing, either glass or acrylic.
Use a window mat and back mat of 4-ply buffered rag mat board or 100% chemically purified wood pulp.
Use photo corners or hinges of Japanese paper, adhered with wheat starch paste.
Use a backing board of chemically stable material in the form of mat-board, corrugated board, or other sturdy barrier board.